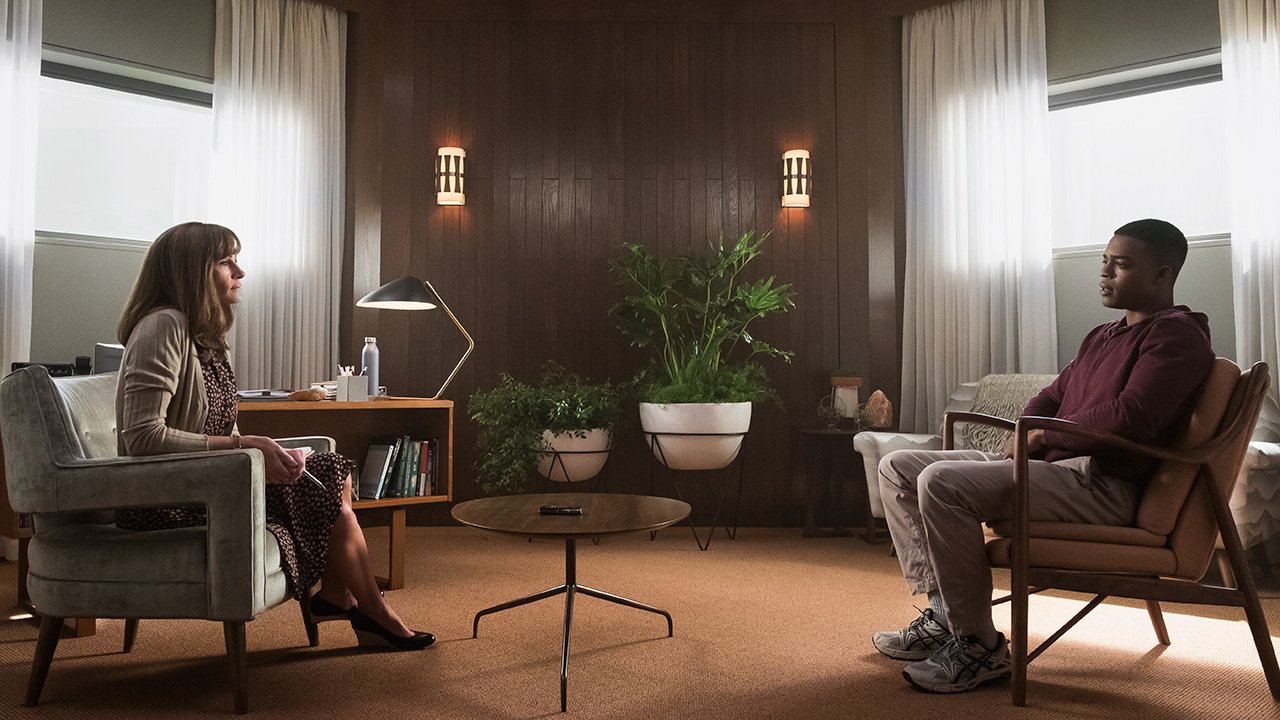 HOMECOMING
Episodes 1 – 4
Starring: Julia Roberts, Bobby Cannavale, Stephan James, Jeremy Allen White, Shea Whigham, Alex Karpovsky, Sissy Spacek, Marianne Jean-Baptiste, Dermot Mulroney
Director: Sam Esmail
Writers: Micah Bloomberg, Eli Horomitz
Reviewed by Sidney Morgan
This review CONTAINS MINOR SPOILERS.
What happens to armed forces members who return from active combat duty? For some of them, the horrors they've witnessed leads to PTSD and a difficulty reintegrating into society. Various programs to provide them with the tools, including therapy, to be successful in returning to civilian life, have gained traction over the years. Homecoming, a new psychological thriller set to premiere on Amazon on November 2nd, begins with just such a premise to tell its story.
Heidi Bergman (Julia Roberts) is a caseworker at Homecoming, a facility that was designed to house a select number of candidates to participate in a transitional reintegration program. The man in charge, Colin Belfast (Bobby Cannavale) is barely present, so he imposes more responsibilities on Heidi than she'd planned on. But her focus remains on the soldiers, with whom she regularly meets to gauge their psychological well-being. It's clear early on that there is more to this program, but uncovering that is part of the mystery in the show.
Meanwhile, Heidi takes a particular liking to one of her charges, Walter Cruz (Stephan James). He appears to be a kind and polite young man who responds well to the program, trying to satisfy all of its expectations. But in the first few episodes, their relationship changes, flirting dangerously close to impropriety. And it appears to be the source of the central conflict of the show.
Homecoming takes place in two time periods. The first, the one the show spends most of its time in, is when the program was taking place, while the second is in the present. Here, Thomas Carrasco (Shea Whigham) is investigating a complaint that was filed with the Department of Defense about inappropriate treatment at Homecoming. A bit of digging reveals that Heidi quit her job only a few weeks after taking it and is now a waitress, living with her mother. But something isn't right as she claims not to know Walter, even though the scenes from the past show they did. Suspicious of her behavior, Thomas digs deeper.
The showrunners have taken an interesting approach to differentiate the two timelines. When in the past, the image is displayed in the typical 16×9 aspect ratio. However, when in the present, the sides are cropped, giving it a more traditional 4×3 aspect ratio, like the old CRT television sets. It's an odd decision, and I wondered why. Many shows have successfully switched back and forth between timelines without changing the display ratio. But most of the action takes place in the past, so there's little of the cropped display. Nonetheless, it feels unique, and after a few episodes, I liked it.
Julia Roberts gives a great performance. Any surprise? Her Heidi is stoic and driven. Yet hiding underneath that front is a slight lack of confidence, a nervousness, even a vulnerability. There's a bit of Darby (The Pelican Brief), Anna (Notting Hill) and even Vivian (Pretty Woman) in Heidi. It's great how she switches between confidence and goal-driven behavior, and scared and confused so effortlessly. There's also Stephan James playing Walter Cruz, Heidi's new "patient," the dreamer and adventurer. He's a romantic and is direct, which intrigues Heidi. Their interactions blur the line as to who is the patient and who the therapist. And rounding out the main characters (as of the first four episodes) are Shea Whigham as Thomas, the investigator, and Bobby Cannavale as Colin, the man behind the Homecoming initiative. Both are excellent additions to the show.
There were also a few surprise appearances. There's Marianne Jean-Baptiste (Blindspot, Broadchurch) playing Walter's mother, Dermot Mulroney (who shared the screen with Julia Roberts in My Best Friend's Wedding) playing Heidi's ex-boyfriend and Sissy Spacek, who just turned in an exceptional performance in Castle Rock, playing Ellen Bergman, Heidi's mother. All three should prove to be critical in Thomas' investigation as they would have been eyewitnesses to the aftermath of the Homecoming events. Heidi might even benefit from their memories.
The performances (and the story of course) are the real assets of the show. They pull you in and let you accompany the characters as they navigate through their stories. And Sam Esmail (Mr. Robot) has also added a few personal touches to differentiate it from the already cluttered thriller genre. There's the different aspect ratios mentioned above. There's also the ending. Each episode ends while the last scene plays, without music or conversation. Being accustomed to that final song/music, to hear nothing but the ambient sounds is a little unsettling, an effect Esmail likely intended. Lastly, there's the episode length. Each one clocking in at about twenty-five minutes, unusual for dramas and thrillers. It heightens the suspense and strengthens the urge to watch the next entry. All of it combines to make Homecoming an outstanding show.
Verdict
Amazon is making great strides at creating original programming. The Man in the High Castle, The Marvelous Mrs. Maisel, and more recently Tom Clancy's Jack Ryan among many others have shown their ability to compete with Netflix, HBO, and Hulu. And their upcoming shows list is incredible as well. True, Homecoming is a slow burn. It takes its time to develop, focusing on rich character and story development. But your patience will be rewarded. The show treads carefully, placing each piece of the puzzle in its proper place and creates an intriguing and addictive mystery. Sam Esmail has again given us an outstanding show.
Homecoming will be available on Amazon on November 2nd.