BIG MOUTH SEASON 2
Starring: Nick Kroll, John Mulaney, Jessi Klein, Jason Mantzoukas, Jenny Slate, Fred Armisen, Maya Rudolph, Jordan Peele
Created by: Nick Kroll, Andrew Goldberg, Mark Levin, Jennifer Flackett
"If my life weren't funny, it would just be true, and that is unacceptable." – Carrie Fisher
Season two of Big Mouth got off to a rough start. When I watched the episode from season one, wherein Jay impregnates his pillow by masturbating into it, I was relieved to think that the storyline had wrapped up. I would never have to think about it again, but there it was again, in the opening shot of season two. That turned out to be a fairly apt beginning for the disappointing first half of the season. There was entirely too much of Coach Steve, who makes me feel rather violated every time he opens his fictional mouth. The nadir of Coach Steve's storyline included him losing his virginity to Jay's mom after finding out that it was possible to have sex without procreation. Yikes.
Shortly thereafter, comes the absolute best episode of the series so far: a Planned Parenthood themed, Saturday Night Live-inspired series of flashbacks to the kids' parents' experiences with birth control and pregnancy. Jenny Slate's character Missy is always a delight. She is in rare form in this episode, imagining herself as a vigilante OBGYN in a world without reproductive health care. It's amazing. It sets the tone for a much better second half of the season.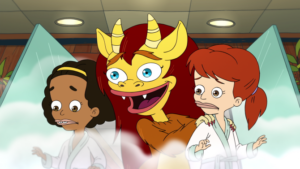 Missy and Jessie are my favorite characters. I find their storylines consistently relatable and engaging as a neurotic and loud and awkward weirdo myself. Jessie is dealing with the fallout from her parents' separation and gets really angry, with the assistance of her hormone monster. Missy starts to find things to hate about her body and ends up getting berated by her own reflection.
Big Mouth pulls no punches when it comes to puberty. Season one ended with a song called "Life Is A Fucked-up Mess." Season two isn't much more optimistic. As someone who dropped out of high school to start college early, I've always hated the idea that high school is the best time in one's life.
Big Mouth reminds me a lot of A Series Of Unfortunate Events, which I loved as a child (and still do) because was never condescending. It assured me that as much as being a kid could suck, adulthood would be better. Big Mouth looks at the same feeling from a different perspective. It asks "aren't you glad you're an adult? Even though being an adult can ALSO suck but at least as an adult you're more or less in control of your life, and you also have tons of baggage from this horrible period that you will be working through for years if not decades?
Verdict: Watch It!… if you're ready to cringe-reminisce about middle school. Be patient because it gets off to a weird start.