I AM THE NIGHT S1
Starring: Chris Pine, India Eisley, Jefferson Mays, Connie Nielsen, Leland Orser, and Dylan Smith
Created by: Sam Sheridan
Written by: Sam Sheridan and Monica Beletsky
Directed by: Patty Jenkins, Carl Franklin, and Victoria Mahoney
Inspired by the Life of Fauna Hodel
"I was suppose to be a journalist…"
True crime, California's sordid history, and prestige TV collide in the thunderously entertaining I Am The Night from TNT. The second entry in the network's push into the period crime drama, now dubbed The Suspense Collection, I Am The Night is a lurid, lavishly directed L.A. legend anchored by strong performances from its leads and consistently engaging scripts from series creator Sam Sheridan and co-writer Monica Beletsky.
Started off by a two-episode stint from Wonder Woman's Patty Jenkins, this new limited series transports viewers back to the boiling streets of L.A. in the 1960s. A young woman looking for her past and a washed up, shellshocked journalist stumbles upon a web of murder and corruption with ties stretching all the way to the infamous murder of Elizabeth Short, The Black Dahlia. You won't get any spoilers from me here today, but trust me when I say, if you love true crime and Chris Pine, I Am The Night is going to be well worth your time.
Fauna Hodel (India Eisley) is a young biracial girl, growing up outside of Reno. Through some heart-wrenching circumstances, she learns she is adopted and reaches out to her birth parents, who apparently have gained some prominence in L.A. She then receives an invite to the city from someone claiming to be her "grandfather." Looking for answers, she naturally accepts. Meanwhile, in the City of Angels, freelance journalist and former Marine Jay Singletary (Chris Pine) is barely hanging on. He's eeking out an existence to keep him in booze and cocaine. But when he catches a murder that looks similar to the murder of Elizabeth Short, the case that ruined his once-promising career dovetails into Fauna's search for answers in a highly entertaining sun bleached noir.
The entire season, intimately and loving directed Jenkins, Carl Franklin, and Victoria Mahoney invokes the feel and detailing of the first TNT true crime gambit The Alienist, a show I am quite fond of and one that served as my first beat here at Rouges Portal! Both that one and I Am The Night occupy a very specific time period, and I am happy to report this new series does it just as well as the Alienist. It might not be as baroque as the previous series, but I Am The Night has all the dark and glitzy delights one would expect from an L.A. based noir tale but presented in an empathetic and realistic way thanks to the talented directing team.
It also doesn't hurt that they are working from a set of engaging and constantly improving scripts from series creator Sam Sheridan and Monica Beletsky. Based on the rich and fascinating life of the actual woman who lived this tale, Fauna Hodel herself, Sheridan and Beletsky weave her life story in a tense and harrowing tale of injustice, institutional corruption, and crusading journalism as Fauna and Jay chase down the story in order to expose a near lifetime of lies. Obviously, I cannot give anything away here. Suffice to say, I Am The Night's writing threads the needle well between engaging biopic and taut thriller for a wonderful combination of both.
The acting of I Am The Night is also across the board tremendous. Not very many leading men nowadays will allow themselves to play ugly, but Chris Pine goes for it here, under the steady hand of Jenkins and the rest of the series' directors. Leaning into a sort of scuzzy, but self-righteous energy, Pine's Jay Singletary is a magnetic performance as he quivers from cackling self-destructive glee one second to woundedly confessing the sins of war the next. It is a standout performance from Pine and one I am very excited for fans to get to see. He is a multifaceted actor. I think I Am The Night is a great example of that.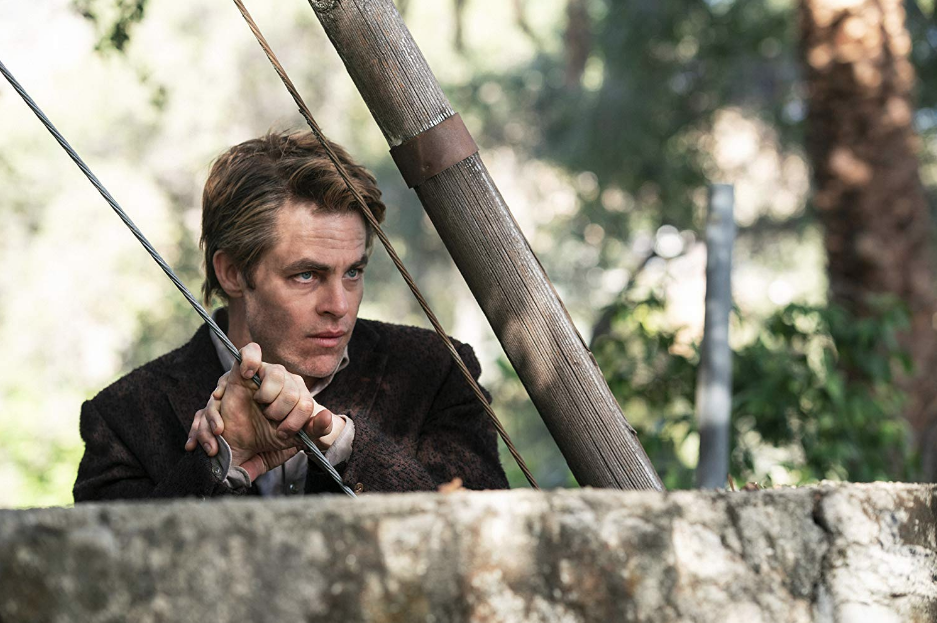 He is matched in kind by a steely, but vulnerable India Eisley, who plays Fauna. Eisley sometimes gets saddled with a large amount of expository action as a large amount of the plot basically revolves around here. However, Eisley's performance is consistently open and engaging throughout, especially when she finds a rapport with Pine in the later episodes. The rest of the cast rounding out our ensemble is also just a murder's row of talent. Connie Nielsen shows up as a vampy, art-obsessed member of the Hodel family and it is like finding a twenty dollar bill on the street. One of the all-time great "That Guys" Leland Orser also plays a pretty meaty part in this limited series, spreading the load of the episodes across a truly great crop of actors.
Verdict: WATCH IT
I managed to get through this WHOLE THING without spoiling anything (which is great, because if I had some very large people from Turner Broadcasting would have shown up at my office), but suffice to say, I Am The Night is a real winner for TNT. Stocked with talent both behind and in front of the camera, this latest miniseries will make the perfect week-long obsession for both the true crime and prestige TV enthusiasts. Set your DVRs because January 28th, your new favorite show starts. Until then, be seeing you.