HAPPY CHRISTMAS, YA JERKS! It's holidays, and you know what that means! And I'm not talking about crushing debts and anxiety about interacting about your extended family in a shockingly cutthroat game of White Elephant Christmas (that may just be me). I'm talking about Doctor Who! While we are going to have to wait and see what the 13th Doctor and her fam get up to on New Year's with Resolution, I spent some time knocking about my lab (read: home office) and thought wouldn't it be fun to mull over the former Christmas specials and DEFINITIVELY rank them?!
Well, ya know, you get it, but I've watched them all. I gotta do SOMETHING with that time, right? Join me, won't you?
13. Voyage of the Damned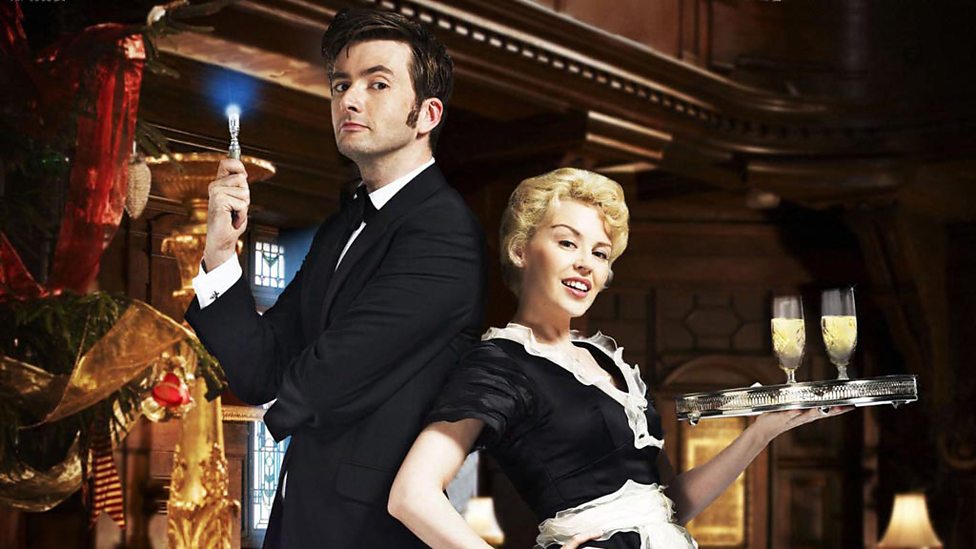 Oof, so, okay. Not starting off on a great note. Real talk, Doctor Who is my favorite thing ever. I love it implicitly, flaws and all. But, I straight up REFUSE to watch this episode when I don't have to. Like I skip it when I do rewatches. Every. Single. Time. And I do so with no regrets. 
Despite some great performances from Queen Kylie Minogue, who is…fridged pretty obviously AND the introduction of the beautiful Wilfred Mott, this thing is a real mess from start to finish. And you can pretty much have your pick of why. The fat shaming, the Christ-like ascension of the Doctor (not to mention his straight up shitty characterization), Bannakalatava or whateverthehell. It is pretty much a buffet of badness throughout.
12. The Christmas Invasion
This one is a MARKED improvement from our last entry, but it IS a different kind of bad. Already we have the bone-headed decision to basically have the plot happen AROUND a sleeping Doctor which is….not ideal for the INTRODUCTORY STORY OF A NEW DOCTOR. (Who, just as a fan, I was RABID to find out what he would do with it and then Rusty Davies freaking…HAD HIM NAP THROUGH THE WHOLE THING…just *sigh*). 
But then the whole thing is wrapped up in some real tonal problems, which is a phrase you will be hearing a BUNCH throughout this article. It is like high drama one minute with Rose weeping over a Doctor who has "left her" and then the next Jackie is about to get killed by a spinning Christmas Tree. Not to mention the script ends on a real down note for David Tennant's debut in which he stone-cold murders an alien and then wraps it all up in a bow of casual misogyny orchestrating the downfall of Harriet Jones just for, like, acting like a human? Or disagreeing with him? I dunno Also, RTD was REALLY proud of that Harriet Jones gag, wasn't he?. This one is always an odd one upon rewatch.
There is some really great stuff here, mainly centered around Tennant, like the flashes we get of his character pre-nap, The Doctor actually ENJOYING Christmas (which I always love) and him choosing his costume from the massive TARDIS wardrobe (AND first canon mention of Torchwood!) but…I am comfortable with its position.
11. The Snowmen
Yet again, Tonal Problems. And very, shall we say, Moffety? Yeah, I am good with that. Overly serious and relying on Matt Smith's "dark side" which has diminishing returns the more that time goes on, The Snowmen is another dour, odd duck in the Doctor Who Christmas canon. This one mainly suffers from being wrapped up in the early Magical Girl Bullshit that was Clara Oswald and Steven Moffet's brand of "Cleverness." The best examples of this are his super odd decision to have Eleven both in hiding but also parading around as "Sherlock Holmes" in his contemptuous attempt at "fan service." Not to mention the whole thing is…not very Christmassy. It is too wrapped up in more of his increasingly flimsy season wide plots and completely forgot to just be a fun Christmas romp, which is what we really want.
I won't lie, seeing The Great Intelligence return to canon and played by both Ian Mckellen AND Richard E. Grant no less (star of a TOTALLY underrated Doctor Who animated story) was a hoot, but upon rewatch, I found myself underwhelmed.   
10. Last Christmas
Another victim of Moffet's "cleverness." Though armed with the novelty of Nick Frost's Santa and Peter Capaldi's grouchy new incarnation, Stevie really cocks it up again when it comes to like…just writing a fun episode. Which is SO WEIRD because he delivers quite a few belters that we will be talking about later!
An extended, boorish riff on Inception, but with brain-eating crabs as the culprits? I think this one gets kind of wonky at the end. It is somewhat saved by the glittering dynamic that Jenna and Peter have with one another, once Moffet drops all the Magic Girl dross, and seeing them ending on somewhat solid ground going into the next series was a good note to end on, but Stevie just couldn't get out of his own way here.
9. Twice Upon A Time
Our first Regeneration episode and it's Not Great, Bob! Another widdly ass plot from Stevie Boy, but this time we get the added luxury of MORE casual "comedic" misogyny thanks to the First Doctor! Thanks! I hate it!
But seriously, this thing is a right old mess and has only a passing mention of Christmas which I felt was only really there to justify Mark Gatiss' cameo as a relative of the Brigadier. This one is another one where you can pretty much take your pick of why it is a tough watch. David Bradley is amazing an all, but it is really tough sitting through his crusty bullshit. The plot is a tangle that not even H. Bomberguy could unravel on YouTube. And, as far as Regenerations go, it all feels so woefully unearned. Capaldi basically gets to hug all his companions in a sketchy reworking of his ending for Eleven, and it all just feels as hollow as the Glass People of Testimony. It might have cracked the Top Ten, but that doesn't make it great.
8. The Next Doctor 
This one is another odd duck, but it represents an upturn in our entries from here on out. Thankfully unconnected from some grand supes dramatic arc and simply based around the Doctor happening upon Christmas in Victorian London, this breezy tale of two "Doctors" vs. the PROPER CYBERMEN is a breath of fresh after all those clunkers.
Plus Pre-Governor David Morrissey! Playing a hilariously over the top parody of David Tennant's incarnation, all swashbuckling energy, and foppish good looks. It may not be the most substantial of episodes, but I'll be damned if it isn't a really fun time. And that couldn't have come at a better time for me and my sanity.
7. The Time of the Doctor 
Our next Regeneration special and WORLDS BETTER than the first one to grace our list. Though, I will say, not without flaws. Mainly the horrid old age makeup that Moffet makes Matt Smith wear through like an embarrassingly long chunk of this episode's runtime.
But I would be lying if I said this thing's story didn't get to me. I could totally do with maybe like onnne more pass at the script? Just to clear up a lot of the mumbo-jumbo that Moffet had tacked on to Eleven's regen (which I swear had been teased for like nine billion years before this episode). But that said, Smith's final bow with the character really did hit me in the feels and the concept of the Doctor having to protect an entire town that embodies the vibe of Christmas is just zany enough to hook me. Plus, Handles. Jesus Christ, Handles.
6. The End of Time Parts 1 & 2
The gold standard of Christmas Regeneration Specials. Though the first part is marred in those dreaded Tonal Problems and bit overly dark for my taste. (AFTER a year-long marathon of dark-ass specials as Tennant took his victory lap). This thing really, really, REALLY sticks the bloody landing as Ten goes gently into that good night, facing his fallen Time Lord brethren,  and absolutely wrecks my shit every time.
This special also had a secret weapon; Bernard Cribbins. On the tail end of Ten's HYPER EMOTIONAL goodbye to Donna, Wilf FINALLY got his turn in the TARDIS, and it was just as beautiful and heartbreaking as we could have ever imagined. I still tear up just at the mere mention of lines like "I think you look like GIANTS," "I could do SO! MUCH! MORE!", and Tennant's gut-wrenching delivery "It would be my honor…". Not to mention his planet shattering final words before exploding into Matt Smith. A real high point for the Christmas canon.  
5. The Return of Doctor Mysterio
Now we are getting into that good, good Doctor Who at Christmas shit. Pretty much a direct sequel to our next entry and a pretty fun offering from Stevie Moffat, this superhero send-up might not have the most to do with Christmas, but again, it is pretty damn fun. This one also finds Moffat not so much on auto-pilot this time around. He had just come off a pretty well-regarded series, as had Capaldi (who I think I warmed up to a bit faster than everyone else) and this was a pretty breezy, but heartwarming follow up to his previous year's entry.
Shameless fans also got a bit of love with the canny casting of Justin Chatwin. Matt Lucas also had a pretty great rapport with Capaldi and held down the companion role, keeping it warm for the brilliant and underserved Pearl Mackie. Justice for Bill Potts, yall. (Insha: FUCK YEAH.)
4. The Husbands of River Song
Arguably, the best River Song episode. FIGHT ME, NERDS. But seriously, though, this thing is a real triumph and one of the few Christmas specials to feel both fully in tone with the season AND monumental to the overall canon of Doctor Who. At first, the episode charms with Twelve's utter contempt at the Christmas season, which is pretty funny in itself. But slowly, and carefully, Moffat starts to slowly give up the ghost that this is more than just a holiday romp and there is where it starts to proper great.
Blessed with the always luminous Alex Kingston, we are treated to fabled "last night" of the Doctor, and River Song and, lo and bloody behold, it DELIVERS. River takes a stirring final bow as their relationship finally reached the foretold conclusion prophesied in The Library. A truly beautiful episode and a real winner for the Christmas DW canon.   
3. The Doctor, The Widow, and The Wardrobe
One of two tremendous showings from the Matt Smith era. Blessed with a mightly clever hook and true emotional stakes for both the Doctor and the Arwell family (given a warm, stalwart avatar in actress Claire Skinner), this special really goes for the gusto in terms of heart and nails it. Though it gets a bit plotty and saccharine for some viewers, seeing Smith go full on childlike and putting his considerable Time Lord powers simply to making a family happy to return a kindness is a really, really great stuff for the season.
The less said about the Ent-like aliens in this the better. This one truly shines thanks to a commitment to the whimsy of the series, an endlessly charming Doctor, and a heavy heart.  
2. A Christmas Carol 
So, real talk, I have never be able to sit through this episode without crying. Armed with the tried and true structure of Dickens' classic and more over the top theatrics from the Moffat/Smith Era, this special just DOES the damn thing, casting The Doctor as ALL THE CHRISTMAS SPIRITS in an attempt to fix the heart of a space miser (a truly wonderful Michael Gambon) or else his friends, the Ponds, will die.
I will say the B-story of the Ponds on a crashing spaceship on their honeymoon always distracts me a bit TOO much from the much more engaging A-story, but man, does that A-story own. Gambon and Smith make such wonderful scene partners. The resolution of the whole plot may be one of the more beautiful things Doctor Who has ever done. I really love this one a lot, and I think it holds up very, very well.
1. The Runaway Bride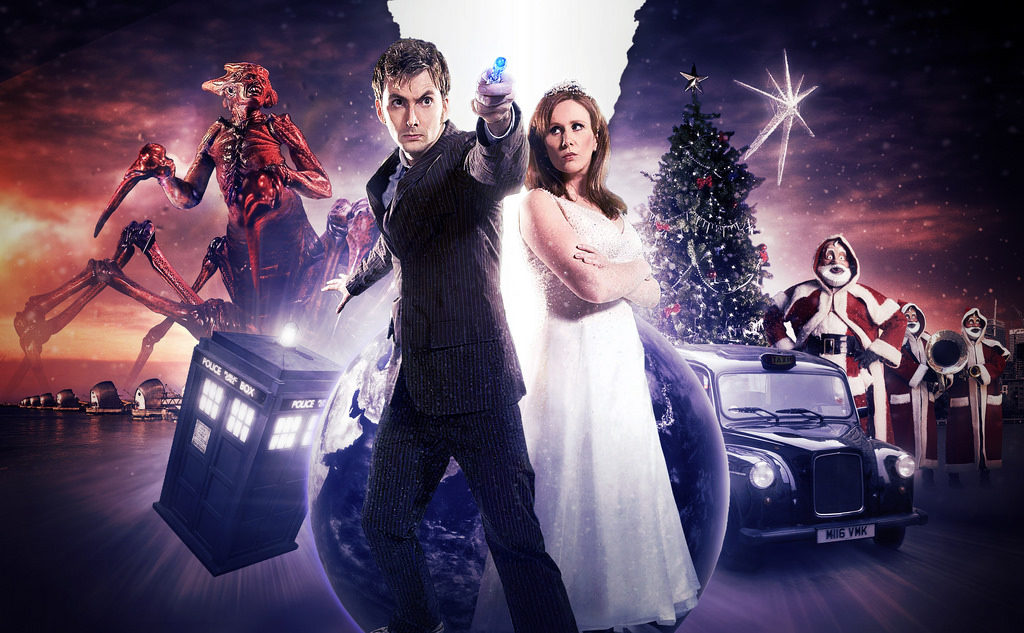 The platonic ideal of Doctor Who Christmas Specials. Not to mention an episode that we don't recognize fully just for how bloody momentous it is within the reboot! The first EXPLICIT mention of Gallifrey! THAT'S HUGE! They had played it so coy before then and then Russell just straight up starts throwing it around! It rules!
Plus, the introduction of the Most Important Woman in the Universe, Donna Noble. That ALONE earns it the number one stop. The fact that it is a wonderful story, even better by Tennant and Catherine Tate's sterling chemistry and dynamic. This one is the gold standard and if you haven't watched it in a while, you really should. You won't be disappointed.
---
AND THERE WE HAVE IT, FELLOW NERDS! Do you agree? Did I miss any? Let me know! And until then, have a very happy holiday, and I'll be seeing you.