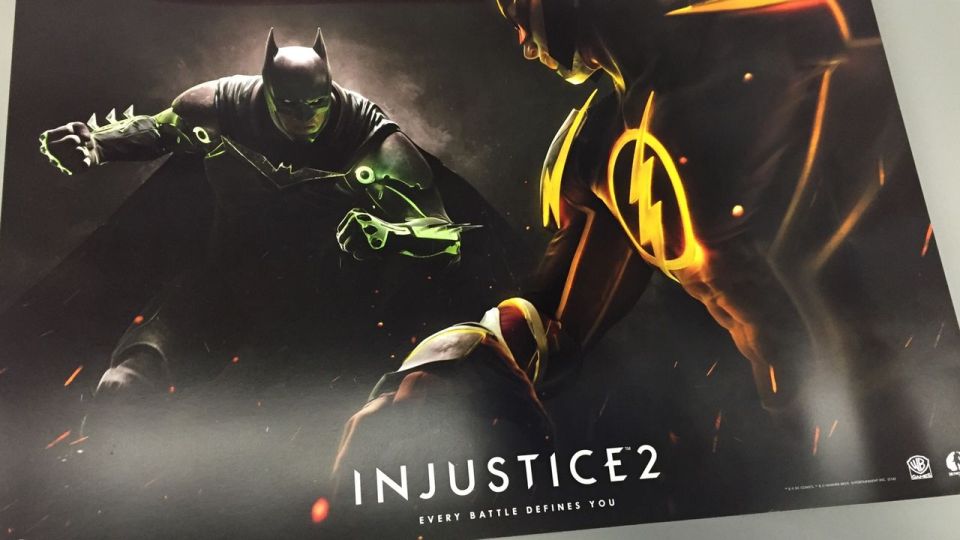 The trailer for Injustice 2 just dropped and was officially confirmed on the PlayStation Blog this morning. The game is the sequel to Injustice: Gods Among Us released in 2013 and will bring us new characters, new maps and more hero bashing destruction!
The trailer shows Supes, Flash, Bats and Aquaman in an interchanging hand-to-hand brawl and reveals the addition of Supergirl to the roster! We don't get to see any gameplay in the teaser and aside from Supergirl, there are no hints as to what other heros or villains may join the battle. But from other press releases, we do know that Atrocitus and Gorilla Grodd will be some of the new playable characters. The trailer does subtly showcase the games new mechanic, with each hero sporting upgrading armour that seems to power them up as they adapt to the battle. The blog post by Tyler Lansdown, a NetherRealm Studios specialist, confirms that Injustice 2 will have a Gear System that allows players to personalize their roster by outfitting heros/villains with character-specific equipment. This will be achieved through RPG-style loot drops that reward the player throughout the game and will hopefully feature some pretty cool tech and magical items from the DCU. The games tagline "Every battle defines you" further emphases how much they intend to play up this mechanic in game.
"Each time I enter the pit, I emerge reborn. Put the Devil on the otherside and I will show up, evolved, adapted, and prepared to fight."
Batman's ominous narration over the trailer underscores the need to evolve and adapt in battle in order to face evil, presumably referencing the destructive events of the first game as a result of Superman's tyrannical regime and may be hinting at his return. But with evil Big Blue locked in a Red Sun prison cell, who is threatening the world (or more accurately worlds) this time? The end of Injustice implied that he still retained some of his powers despite the red sun radiation that should have rendered him powerless, so we shouldn't count him out as a potential antagonist in the sequel. Alternate Batman also warned Superman that he would hunt him down should he ever succumb to the same evil temptations as his counterpart, but hopefully the storyline of Injustice 2 doesn't simply rehash plot points from the first game. I think we've all had enough of Batman vs. Superman for now and the promise of an expanded roster of heroes and villains really opens up the story world to new matchups.
Injustice 2 is set to be released in 2017 for PlayStation 4 and XBox One with more details to come from NeatherRealm Studios before the launch. Watch the trailer below: