4001 AD: War Mother #1
Written by Fred Van Lente
Art by Tomas Giorello
Colors by Brian Reber
Letters by Dave Sharpe
Review by John Dubrawa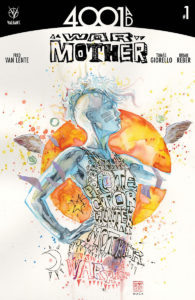 She's part-scavenger, part-warrior and all badass. Ana the War Mother is Valiant's latest hero and not only does she fit perfectly in this post-Rey, post-Furiosa world we live in, she also seems quite capable to manage the landscape of Valiant's universe in the wake of their 4001 A.D. event. I've not read that event, nor much of the Valiant universe outside of a few first issues here and there but as it turns out, neither one is a prerequisite for enjoying 4001 A.D.: War Mother #1. While its title might seem a little daunting at first glance, this book is a surprisingly accessible starting point for any reader on the outside of the Valiant universe looking for a way inside.
In order to bring those in-the-dark readers into this world, series writer Fred Van Lente focuses this issue on a seemingly routine scavenger mission involving Ana and her sentient tracking system named Flaco. Flaco becomes the de facto surrogate for the new reader since its (his?) memories are erased after each mission, and it's up to Ana to fill Flaco in on the world, its inhabitants, and the importance of the mission they're on. It's a clever way to deliver so much exposition…as long as you don't apply too much logic to it. Does Ana have to explain everything to Flaco each time she goes out and if so, doesn't that seem a bit counterproductive? Imagine Tony Stark having to give Jarvis a rundown on what's going on each time he boots up his suit. By the issue's end, though, that problem resolves itself and we learn a lot more through Ana's controversial actions than we do from her explanations to the little computer atop of her high-powered rifle.
Visually, 4001 A.D.: War Mother #1 is a stunning book to look at, thanks to artist Tomas Giorello. There's so much detail put into each panel, from the lush overgrown landscape of Ana's home in The Grove to the expressive faces of each of the characters. Giorello has a painterly style that doesn't exactly scream "post apocalyptic storyteller," but he certainly gives this title a look and feel all its own. Similarly, Dave Sharpe's lettering adds a unique flair, giving characters like Flaco or The Grove's doorkeeper Caller a vastly different voice. In an issue that doesn't feature a vast cast of characters, each one feels distinct thanks in part to Giorello's detailed pencils and Sharpe's on-point lettering.
Verdict:
Buy! Take Sarah Connor, Rey, and Furiosa, roll them up into one badass character and you'll get Valiant's latest hero, War Mother. Though this character might be from a previous Valiant event (Book of Death) brought out during another Valiant event (4001 A.D.), writer Fred Van Lente is sure to make this first issue accessible to everyone. I can't be sure if this is a character that may inevitably lead me into the center of the Valiant universe, but I'll be along with her wherever she goes.