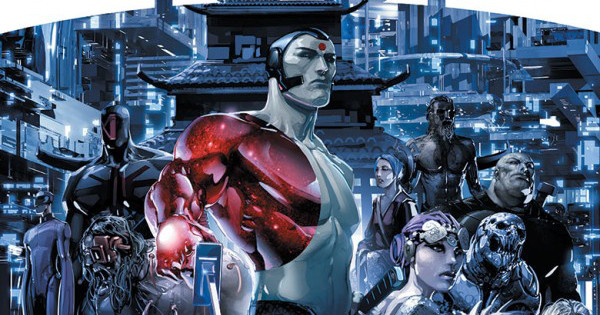 4001 A.D. #1
Writer: Matt Kindt
Art: Clayton Crain and David Mack
I'd like to begin this review with the words of Valiant CEO & Chief Creative Officer Dinesh Shamdasani:
"As always, everyone at Valiant–from our writers to our artists to our editorial team–is challenging themselves to ensure that 4001 A.D. lives up to Valiant's growing reputation for creating the highest-quality and most accessible event comics anywhere in the industry today."
A bold statement, and one that's easy to test.  The book's writer Matt Kindt artfully gets the reader up to speed with the opening four pages. This opening provides an in-depth catch up that does not outstay its welcome, owing at least in part to some wonderful art provided by David Mack, in his beautiful Japanese Kabuki style.
Once this catch up is out of the way David Mack makes way for Clayton Crain, and his work here does not disappoint. The art leaps off the page in bursts of glorious technicolor, perfectly capturing the feeling of a world thousands of years from now. Within the first ten pages a T-Rex is cast out into space in an explosion of pink, green and orange that is simply spectacular.
The story itself is one of a dystopian future where New Japan floats in space above the planet earth. The satellite is run by a Nefarious A.I called Father, who happens to also be our hero Rai's literal father. Rai and his girlfriend Lula had failed in an attempt to stop Father before and the fall out of their failure is having dire repercussions for the people of New Japan. Rai was presumed dead but he is fact down on the surface of earth where he has teamed up with Lemur and Gilad-the eternal warrior. Lula spends the book in hiding as discovery would mean certain death. Meanwhile, Rai and his cohorts discover an ancient weapon that might assist in their battle against New Japan's malevolent leader.
Matt Kindt's script did a fantastic job of setting the scene and  universe, even for the uninitiated. For me, personally, any book with the guts to combine the genres of science fiction, samurai, and fantasy is a winner for me. I mean, what's not to like?
The Verdict:
But it! It has wonderful, colourful, vibrant art along with a strong script and concept that only hints at what might yet be in store. It's high concept sci-fi meets feudal Japanese fantasy in this colourful explosion of a comic book! With regards to Valiant CEO Dinesh Shamdasani's bold statement, I would say so far, on the evidence of Issue 1 he MAY  be right!