When a small town is invaded by aliens from outer space who are capturing and killing the townspeople, no one takes the teens warning them about the situation seriously. Why? The aliens all look like circus clowns, use weapons that look clown like, and all have painted on smiles. Only a few of the young people in the town realize the danger. Armed with an ice cream truck, they try and rescue their friends.
---
Amelia: First off, those two college kids that get arrested for having alcohol on them in the first ten minutes of this movie should not have been arrested. If they're of age and not drinking it in public, what's the problem? This is clearly just a goth guy and his gay lover getting some wine for a romantic Friday night date! But then the dickhead, old guard cop goes and arrests them. The cops have established themselves as a bunch of grade-A buttwipes that I can't wait to see get killed by klowns!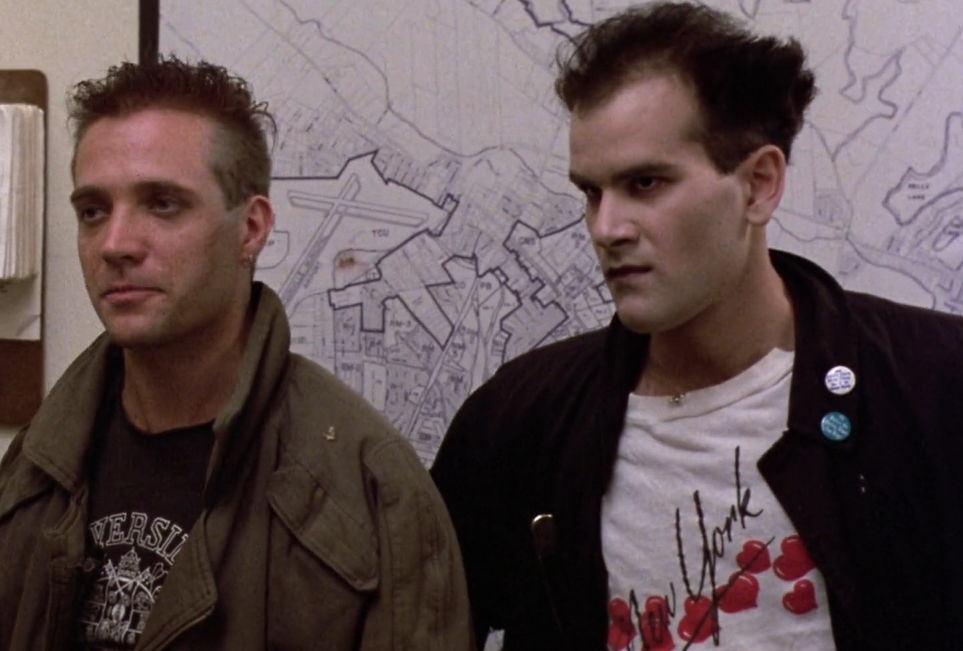 Billy: There's some instant recognition I have with this movie. First off, it shares a ton of similarities with The Blob, a movie which was coincidentally remade in the same year Killer Klowns From Outer Space released. You can also argue similarities with Gremlins, trying to have smaller moments of mischief and mayhem as the bulk of the picture. I can see the hope to smash the two films together to create an easy comedy/horror hit. Unfortunately, to me at least, it ends up feeling a whole lot more like The Garbage Pail Kids Movie in terms of being an ugly, unwatchable mess. While there were a few parts that intrigued me, overall I couldn't get into this film at all except for a few select moments.
Amelia: What the hell was going on in the minds of the dozen or so people named Chiodo that made this movie? To be honest, I can't even see the cult appeal here, though it's got a huge one. My mother was always a fan of cult shit, and this movie held a place on her VHS shelf. But like… why? Just… why?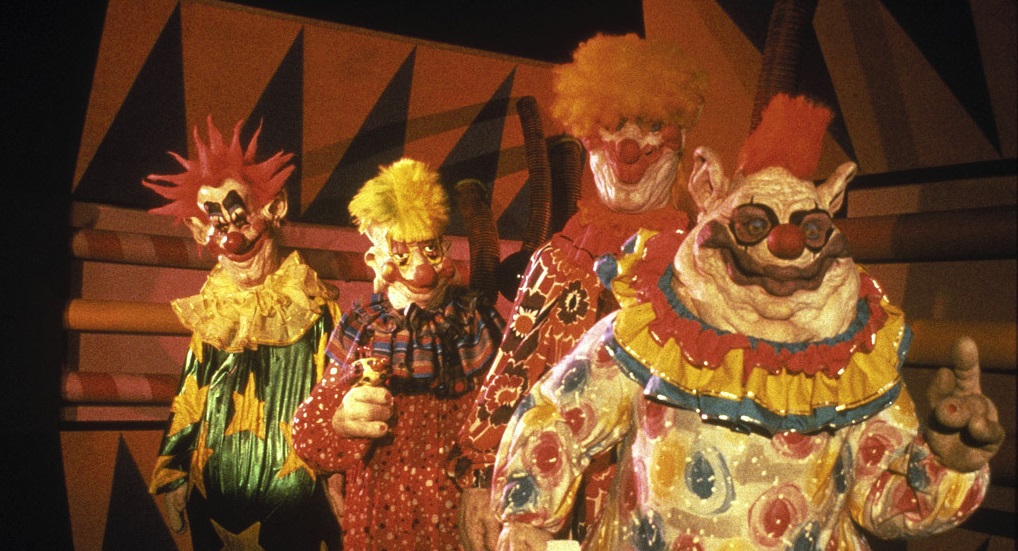 Some of the effects are actually better than I would have thought. All things considered of course. The klowns themselves are pretty well produced and painted up, and their klown car things are… Unique? Listen, I'm really struggling here, just suspend your palpable disbelief and believe that I have half a nice thing to say about this grease-painted, baggy-pants monstrosity of a movie!
Billy: The way in which it tried to parody The Blob is at least admirable. It's a basic set up. Something falls from the sky. An old man and his dog go missing. Kids investigate without the cops believing them. The cop on their side is named Dave. The old-school cop who instantly hates anybody who's gone to college actually ends up being my favourite character. I wanted more of him denying there was anything wrong even as things ramped up to be bigger and bigger in scale. That could have been some comedy in steadfast denial even as the city was burning all around him. I think he needed a bigger send-off when he died too, as it was actually a pretty small moment in the overall film.
Amelia: Okay, seriously though, there is a legitimate nice thing I can say about Killer Klowns From Outer Space! Believe it or not, the soundtrack isn't awful. Especially the closing theme. It's actually pretty bitchin'! So yeah, there's that.
But that is all.
Billy: And what is with the set design? It's 1988, the same year as Beetleuice! I mean, Tim Burton is a thing, that's all I'm saying, and they're still just slapping colourful cardboard together in a black void. Even on a budget, I know you can do better. I've seen sets that looked better in the third series of Star Trek. Ugly, ugly, ugly. Almost as bad as the klowns themselves. I mean, how hard is it to mess up creepy clowns? They exist. It's a person in makeup and can easily be mistaken for a genuinely friendly clown. I definitely don't want sculpted and puppeteered faces.
Spooky Verdict
Amelia: One clown out of ten
Killer Klowns From Outer Space isn't scary and it isn't funny, so the horror and comedy tags on IMDb are 100% wrong. If I personally had to tag it, I'd probably go with… crap. My one clowns rating is to raise awareness about gay goth unlawful arrests!
Billy: Half a clown out of ten
There's not even one clown for me to give this mess. This was actually a timely pick for this year when creepy clowns are actually something you have to watch out for, but Killer Klowns From Outer Spce doesn't give me horror or comedy. I've never been scared of clowns, personally, and I think trying to make them scary always falls flat. There's nothing scary here other than: look, there's clowns! And it didn't entertain me either. There was no charm in the klown's performance, nor in the humans. Biggest laugh I got from the movie was a gang member yelling "oh shit!" when a clown punched a guy's head off.