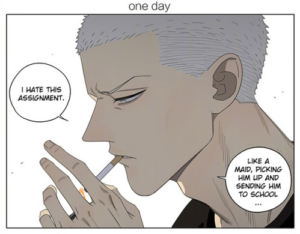 So Old Xian surprised last week by not uploading one but two chapters of 19 Days! What a lucky fandom we are! In the first chapter we see Mo Guanshan visiting his father in prison. What will have in this chapter? Let's find out…
Plot
He Cheng and Brother Qiu are discussing their current situation and Brother Qiu is fed of having to babysit. Whilst that's happening Jian Yi literally bumps into and old familiar face…
Opinion
HE'S BACK!!! THEY DAY HAS FINALLY ARRIVED!!! SHE LI IS BACK!!!
Look at him!! Being all handsome and evil with his little pose behind him!! Even his flirting tactic is deadly. With She Li returning I can gather that we have some dark intense chapters coming our way. I don't think I'm emotionally prepared for what's about to go down!
We're also given a glimpse of He Cheng to discussing this current situation with our silver-haired bodyguard (whose called Brother Qiu by Jian Yi). Seems like there is going to another intense situation about to unfold. Both our older characters seem anxious with what's about to lie ahead. It feels like the situation revolves around Jian Yi's mother, who has somehow disappeared and we still don't know what's happened to her.
Can you believe Jian Yi has somehow completely forgotten who She Li is!? Dude it wasn't that long since you bumped into him how can you forget?! Jian Yi's and She Li's relationship is already pretty toxic and I feel it's going to get a whole heap worse.
Next Chapter:
The fandom was lucky this week to be given a peek into Old Xian's work like when she uploaded a video showing her workspace and in turn gave us a glimpse of what might be coming up. The visual was of Guanshan is a difficult situation. So in the next chapter we're either going to see Guanshan beaten up by She Li (which I'm not ready for) or He Tian is going to get aggressive with him (which I'm not ready for). Either way, I'm not ready.