19 Days is back again this week with a brand new chapter. In the last chapter, we saw Jian Yi living his housewife dream with Zhang and going food shopping whilst also causing problems for Guanshan in his new job. What will happen this week? Will He Tian surprise Guanshan at work? Will Jian Yi make that curry?! Let's find out.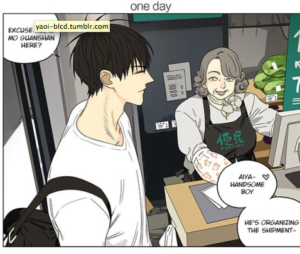 Plot
Wanting to hang out with Mo at the aquarium, He Tian begins working at the same store, only to cause more trouble for poor Little Mo…
Opinion
Here it is. The chapter we've all been waiting for. Little Mo finally let his guard down, ever so slightly and it was definitely worth the wait. Honestly, I haven't been this excited by 19 Days in ages! This was exactly what I hoped for and the way he expressed himself was still true to his character. Old Xian really tugged on our hearts with this chapter.
I knew he would get Mo into trouble. He's such a pest. You cannot blame Little Mo for having a rant. The boy has financial problems. He needs the money. I was hoping for a chapter of them in the aquarium so this scenario was completely unexpected and I loved it.
The facial expression on He Tian after Mo's little declaration is drawn so beautifully. He looks incredibly touched, softened. Old Xian is an incredible artist, so much detail and she always conveys emotions so well and so beautifully.
Next Chapter: I honestly have no idea and I'm really excited about it! We might see Jian and Zhang having dinner together or it might be a continuation of this. I honestly don't know but I cannot wait to find out. I hope we won't have to wait too long for something like this to happen again though.