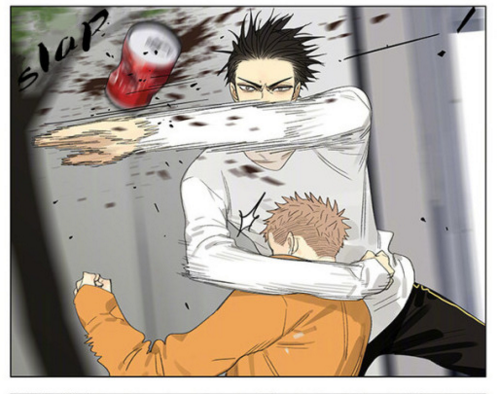 19 Days is back, and the fandom is dying to see what happens next!! In the last chapter, we began a brand new arc, and we saw our honour student (He Tian) getting a telling off by the teacher for his grades slipping so he decides to pester Guanshan of course. What will happen in this chapter? Let's find out…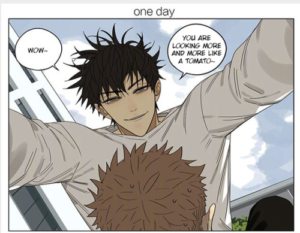 Plot
He Tian and Mo Guanshan are still having their moment when He Tian saves Mo's from an oncoming coke can! They're both called to the disciplinary office where the teacher wants to see He Tian's parents…
Opinion
Not to be a major wet blanket but that was an overly dramatic swing. Would a can of coke make cause that amount of damage? Pretty excited to see She Li coming back into the scene, maybe he'll stay longer than just one chapter this time.
Poor little Mo, he cannot catch a break, can he? Stitched up on a sexual assault charge, kneed in the gut, He Tian causing him problems, coke cans to his head, the teachers blaming him for He Tian's unruly behaviour. Lady luck is never on his side. I hope something really nice happens to him soon. We haven't seen him having some good karma I feel like he may have earned it now.
I love the look of the last two panels! The red wine colour is absolutely gorgeous and sets the scene perfectly. It seems like He Tian's brother is definitely in charge! Maybe he'll know She Li in some way?! Maybe the fan art will come true!!
Next Chapter: Definitely a continuation of a school day but we'll have a Jian Yi and Zhang storyline, unless He Cheng turns up and they're both eavesdropping outside of the office, or they end up discussing what's happening in the teacher's lounge and She Li sneaks up on them. Either way, I'm very excited to see what happens next!! Give me some angst Old Xian!!