19 Days is back, and things are starting to heat up once more!! Last time we had an awesome chapter with He Tian planning to escape wherever his dad has put him and we also Guanshan struggling to sleep (poor baby). We also received some new official Old Xian artwork of both characters which sent the fandom into pure meltdown. So, what happens this week? Let's find out…
Plot
We now see Little Tian confronting his brother about his puppy, which was killed by his brother, or so he thinks…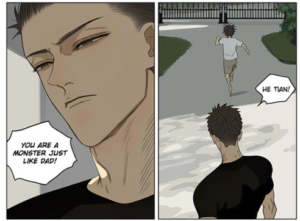 Opinion
I loved this chapter, from beginning to end. What a plot twist that turned out to be!! Honestly, I wasn't expecting that dog storyline to come back up at all. Here comes Old Xian with a major (albeit wholesome) plot twist that the fandom needed!
First question on my mind was why hasn't he told He Tian about him?! I (sort of) understood why he might not have told him when he was younger (kids do find it difficult to keep secrets don't they?). Now, he's 14/15 years old, and clearly hates his dad so why not just tell him? I honestly believe he's going to surprise He Tian with him, only to find out He Tian went batshit crazy and left the premises.
I also noticed a slight storyline cross happening here!! In the last chapter, we saw He Tian's (clearly batshit crazy) Dad tell him he can only escape 'depending on his abilities' in the last chapter and now we see baby Tian asking his brother if he doesn't follow his fathers orders if he's going to 'bury him too.' I think we've all come to the solid confusion that He Tian's dad is…well… a bit of a dick.
Next Chapter: I think we'll have another school day. Probably centered around Jian Yi and Zhang, since we haven't seen them in a while.