Well aren't we (19 Days fandom) spoilt!! Not one but two updates in a week! Old Xian is on a roll. I'm still confused as to why He Tian referred to Saturday as 'Saturday' instead of tomorrow. I can't believe their date came so soon. I thought we would have a few filler storylines before reaching that! The last chapter fell flat for me. I mean, it was funny, but I want to know how Zhang Xixi feels about the confession and how he really feels about Jian Yi. Will I get my closure? Let's find out…
Plot
After getting an eyeful of Jian Yi's… nether regions an awkward silence ensues between the two. Zhang asks Jian Yi to wash and change first, which Jian Yi politely declines. However Zhang is persistent that Jian Yi goes and gets ready first since he needs to 'recover'…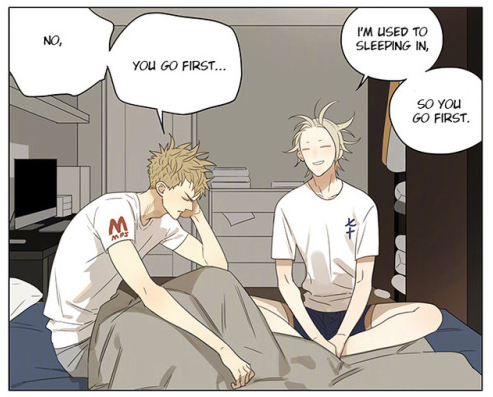 Opinion
Okay so they seem…fine with each other? Well Jian Yi definitely is but Zhang seems…too calm about the whole situation. Does he feel the same way? Is he going to accept Jian Yi's feelings or has he already accepted Jian Yi's feelings hence the kiss on the forehead. I do hope the next chapter answers a few of these questions. Even though the chapter was, again, funny it still… fell flat for me. I guess I'm craving angst and emotion from 19 Days. I want their relationship to progress or at least give them some tension.
I'm come to terms with the fact that She Li will not have his own chapter any time soon, However when he eventually does it's going to be HUGE!! A few fans believe that he and He Cheng will get together, however I still feel that he's going to play some pivotal role in the progression of Zhang and Jian Yi's relationship.
Dare I say it but can I get some angst? Please?!